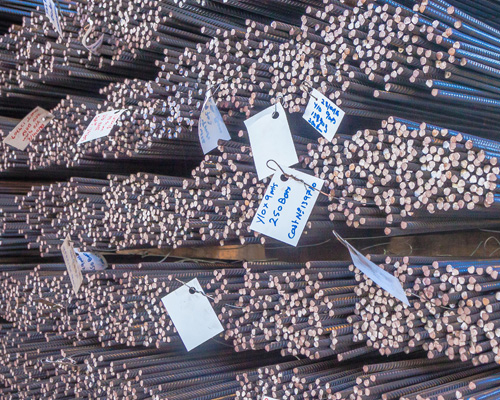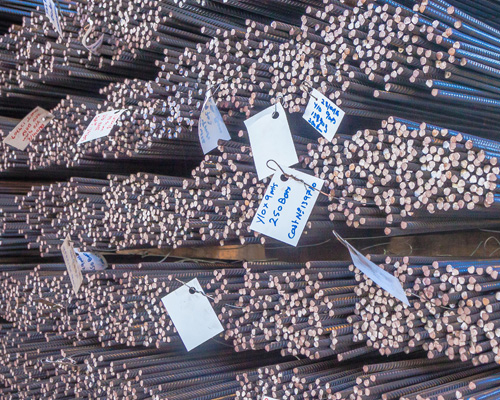 Sizes: R6 & Y8, 10, 12, 16, 20, 25, 32, 40
Specification:
MS 10 (BS 4449)
MS 34 & 35 (BS 4482 & 4483)
All products are MSB certified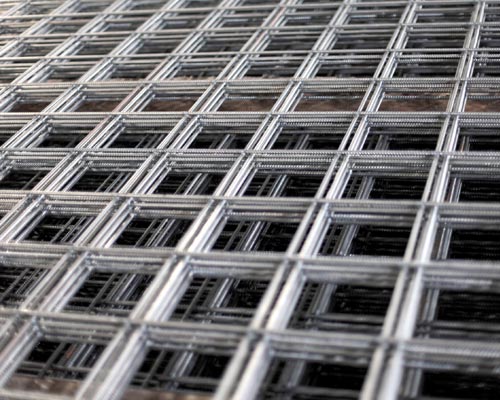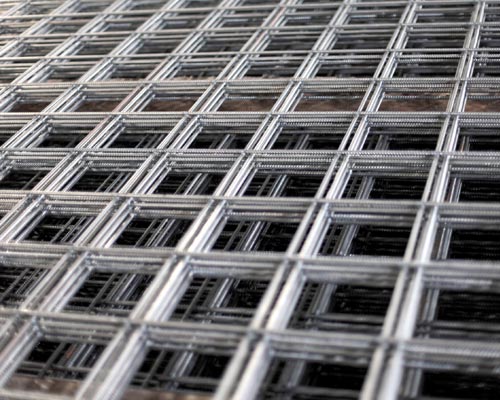 A142-6mm/200/4.8 x 2.4m
A252-8mm/200/4.8 x 2.4m
A393-10mm/200/4.8 x 2.4m
Construction Pine Wood & Shutter Board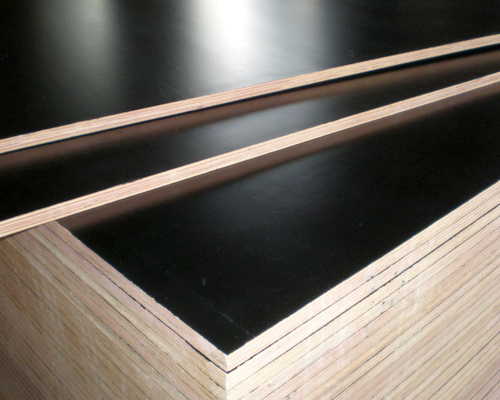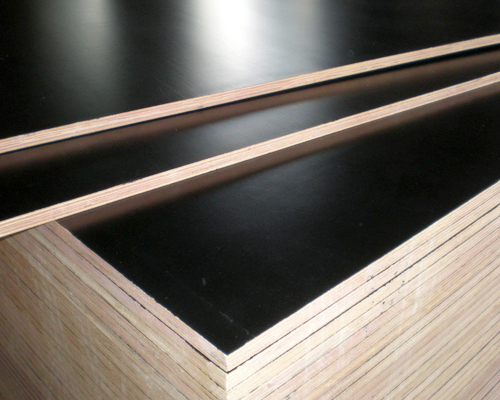 WBP BLACK SHUTTERING
Black Plywood 2440mm x 400mm x 18mm
8′ x 4′ x 18mm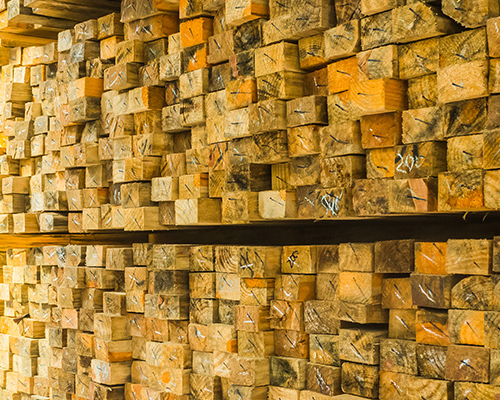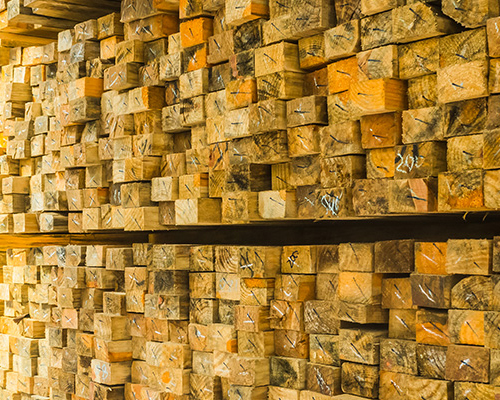 MALAGASY PINE WOOD
50mm x 25mmx 2.9m
75mm x 50mm x  2.9m
150mm x 18mm x 2.9m
200mm x 50mm x 2.9m
Cut & Bend Reinforcing Steel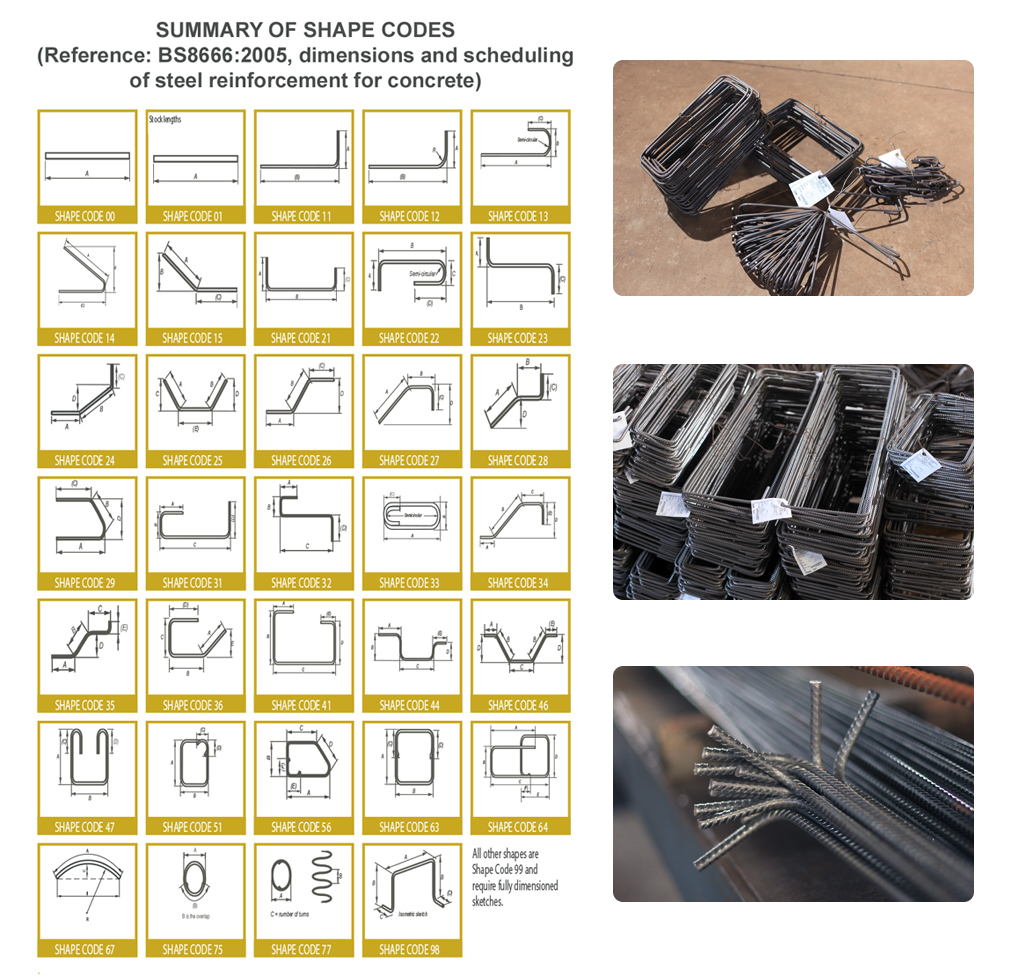 Kosto Ltd also provides cut and bend services according to international standards (BS 4449 & BS 8666). This alternative solution to traditional unscientific cutting and bending on site has proven to be highly effective and encompasses  numerous advantages such as:
1. Rebars that are cut and bent according to the quantity,
shape and length required.
2. Consistent Quality and Accuracy
3. Lower material & labour costs
4. Less wastage
5. Less Time consuming compared to traditional methods
6. Better cash flow management
7. Less warehousing costs and reduce space requirements on site
8. Involvement of resident civil engineers
Furthermore, our after sales service remain as one of our priorities in taking care of our valued customers such that we provide various reports on supply for  better documentation and management control and facilitation of QS and final account procedures.
Cut and Bend services can be subjected to clients needs as to either provide their own bar bending schedules or appeal to our resident civil engineers services as well.
Fencing

Bestfence in conjunction with BRC Mesh Reinforcing has developed the BRC-thru® range of welded mesh panel systems to provide barrier solutions to a wide and varied range of applications including domestic, school, road, sports facility and security installations.
• Multiple 'V' bends provide increased rigidity
• Choice of plain, electric wire top or multi-spike
• Unique clamping system ensures maximum wire contact
• Galvanized or coated finish
• Anti tamper fixator solution
• Wires pretensioned prior to welding
• 700 MPa high tensile wire
• Vertical wire arrangement
• Highly transparent
Rugged secure perimeter fencing solutions that enhance the value of property assets. Aesthetically pleasing, offers maximum protection and can be fitted as a complete system or retrofitted to enhance existing perimeter fences.

Lattice Girders
Lattice girders serve some of the best functions in construction support systems, and offer an economical alternative to other support methods for a wide variety of applications. Lattice girders are light and easy to install and can be handled easily without special equipment.
Lattice girders have been tried and tested with great success in numerous operations. The product is manufactured from cold drawn high tensile black deformed or smooth wire.
Unique benefits and application of Lattice girders
• Lightweight and easy to install
• Suitable for fence posts, roof trusses, purlins and pre-cast beam reinforcement
• Quality assurance – manufactured to the ISO9001:2008 Specifications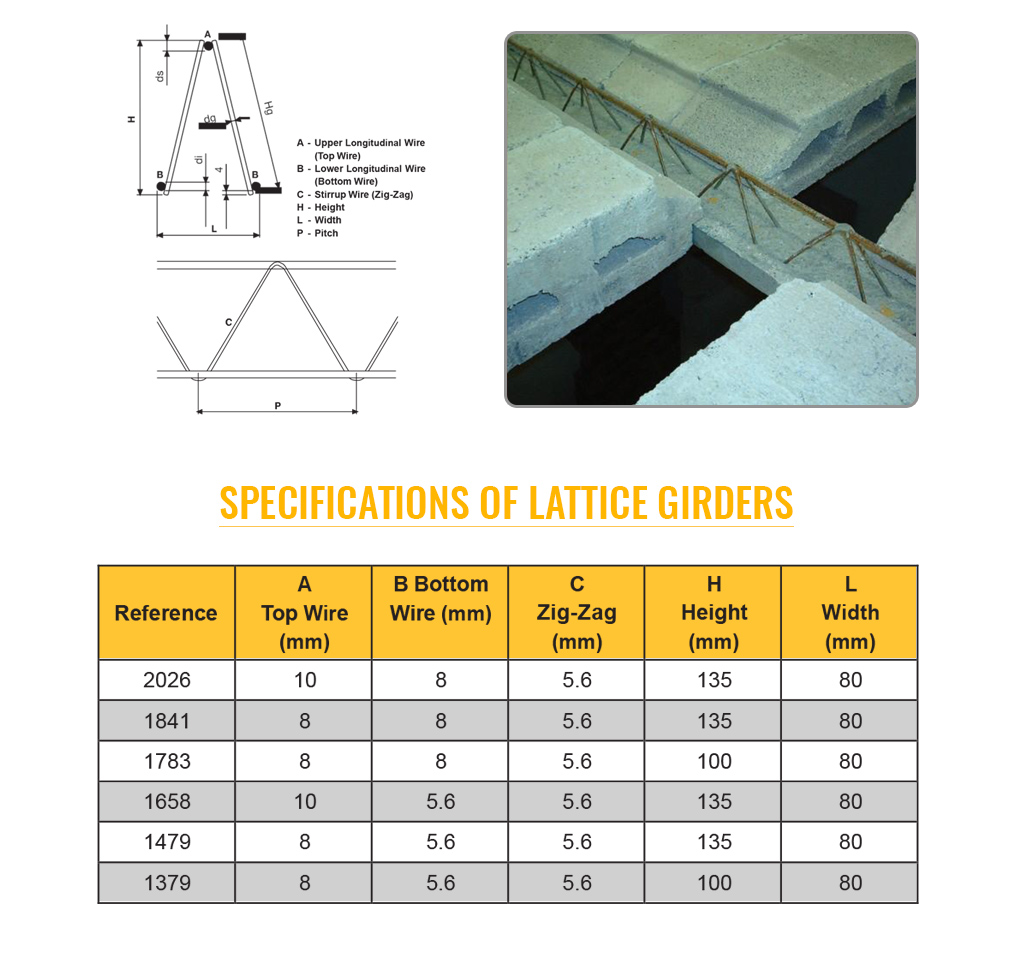 Lattice girders wires are welded at 200mm c/c along the lattice length.
Reinforcing Steel Binding Wire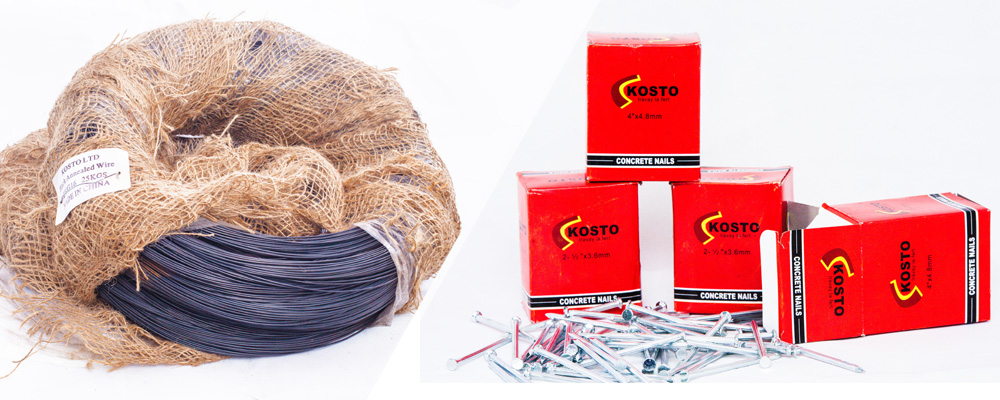 SQUARE TUBE – BLACK
32mm x 32mm x 1.5mm x 5.5m
SQUARE BARS
25mm x 25mm x 6m
RECTANGULAR TUBE – PRE GALVANISED
50mm x 25mm x 1.5mm x 5.5m
75mm x 40mm x 1.5mm x 5.5m
EQUAL ANGLES – GALVANISED
30mm x 30mm x 5mm x 6m
EQUAL ANGLES – GALVANISED
19mm x 19mm x 1.5mm x 5.5M
25mm x 25mm x 1.5mm x 5.5M
38mm x 38mm x 1.5mm x 5.5M
50mm x 25mm x 1.5mm x 5.5M
50mm x 50mm x 1.5mm x 5.5M
GALV WATER PIPES BSS 1387
1″ x 2.00mm x 5.5m
1.50″ x 2.3mm x 5.5m
EQUAL ANGLES – BLACK
25mm x 25mm x 5mm x 6m
30mm x 30mm x 3mm x 6m
38mm x 38mm x 5mm x 5.8m
MILD STEEL CHANNEL BARS
75mm x 40mm x 6m (3′ x 1.5′)
100mm x 50mm x 6m(4′ x 2′)
150mm x 75mm x 6m(6 'x 3')
NAILS – 20kg & 25kg BOX
Wire Nail 2′- 4′ – 20kg
Concrete 2′- 4′ – 25kg
BLACK ANNEALED WIRE – 25kg/ roll
16 BWG – 16gauge
21 BWG – 21gauge
MILD STEEL PLATES
2440mm x 1220mm x 1.5mm
2440mm x 1220mm x 3.0mm
2440mm x 1220mm x 4.5mm
2440mm x 1220mm x 10mm
2440mm x 1220mm x 12mm
ROUND MILD BARS
Round Mild Bar 12mm x 5.5m
Round Mild Bar 16mm x 5.5m
Reinforcing Steel Splicing Solutions
THREE-STEP MANUFACTURING PROCESS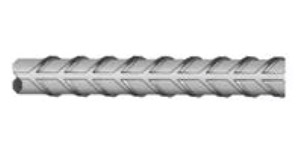 1. Cutting
The end of the reinforcing bar is sawn square.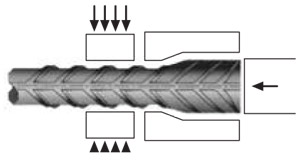 2. Cold forging
The sawn end of the reinforcing bar is enlarged by a patented cold forging process. The core diameter of the bar is increased to a pre-determined diameter.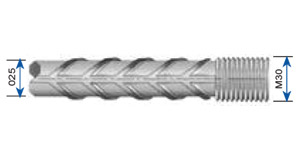 3. Threading
Finally, the thread is mechanically cut onto the enlarged end of the bar..
The BARTEC® mechanical splice system consists in enlarging the reinforcing bar ends by cold-upsetting prior to threading them. The bars are cut square before the enlarging operation. The combination of the square cutting and the cold-upsetting reduces the length of the bar by approximately 40 to 75 mm on each end, depending on the bar size. Extra-long threads are used to assist alignment, or when joining bars that cannot be turned. All applications can thus be fulfilled by only one model of coupler, thereby reducing inventory management to a minimum. Bar end preparation must be done exclusively with machines provided by Dextra. Consult us for technical details of our range of machinery.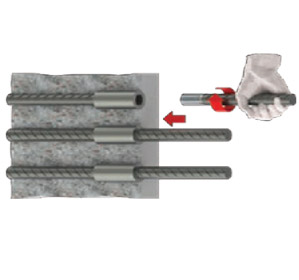 Standard splice
Easy connection by bar rotation until full thread engagement.
Parallel thread :
No risk of thread mis-match.
No risk of cross-threading.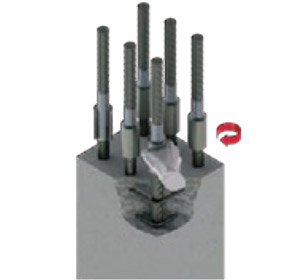 Position splice
Even when both bars cannot be turned, the Bartec system uses a standard Bartec coupler (exactly the same as used for type A):
The coupler is fully engaged onto the extended thread of the connecting bar. The assembly is simply completed by butting the bars end to end and screwing back the coupler onto the first bar until full engagement.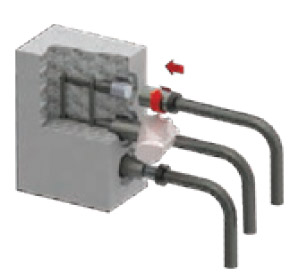 Type C assembly method
Type C assembly method is similar to Type B, with the addition of a lock-nut to maintain the second bar in position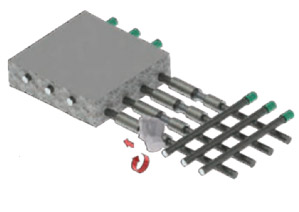 Caging splice
To connect cages that haven't been pre-fabricated together or sets of bars that can't be brought butt to butt, Bartec Caging Splice is your solution.
Both bars are threaded with a standard Bartec thread, and then the free rotating elements of the Caging Splice will restore thread continuity and make the connection.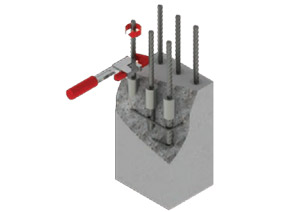 Transition splice
When there is a need to splice bars of different sizes, it is allowable in most cases to reduce the size of the larger bar and to use a standard coupler.
However the Bartec system also proposes special transition couplers that conveniently avoid the difficult task of planning in advance the need of transitions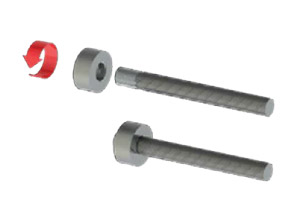 End anchors
A convenient alternative to hooked bars to provide end anchorages in congested areas. Bartec standard anchorage heads are circular and have a net bearing area of 4 times or 9 times the cross-section of the bar, but can also be made to order in other shapes or dimensions to fit the application requirement.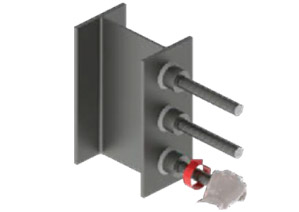 Weldable couplers
For composite construction where concrete reinforcement bars must be welded to structural steel, use Bartec weldable couplers, which are specially made from low carbon steel and which have a large chamfer for bevel welding.